Cloaking – whether it is worth using the black SEO method?
Cloaking – a method of black SEO. When using this method, for retrieval robots and simple visitors of a site, the page will look absolutely differently. But what sense from it?
Users and retrieval robots will be happy, after all they will see the page which is optimized under them.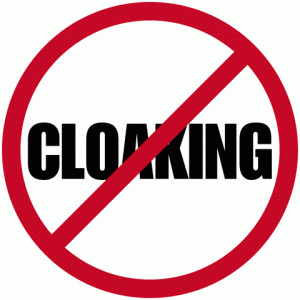 The cloaking thanks to scripts, on the Web server side is implemented. But how will be able to define a cloaking script who visits a site? There are some options:


The elementary method – "User-Agent" check. In case of request of the page a retrieval bot, this parameter will have the name of a search engine. Without special work, the script of a cloaking identifies a search engine and will show the necessary page. And to the normal user, after a face – monitoring, will give out the necessary version of the page.


Slightly more difficult – to apply the IP database of addresses of searchers. After request of the page the special script of a cloaking will check IP of the user on a database. This method is safer, though it is more difficult previous. Having selected this method, it is necessary to update regularly a database on which there takes place check of IP addresses.


The output – is safer to combine these methods.
But whether there is a sense generally to use a cloaking? Is but only if you rather experimental SEO – the expert and realize that you take the risk. Be careful, Bann from searchers – a thing serious. Search engines negatively belong to a cloaking, after all application of this method forces to doubt relevance of retrieval output.
There are three options of detection by searchers of a cloaking:


In the User-Agent parameter the retrieval robot doesn't enter a name of a search engine.


The searcher sends the robot from the new IP address.


It is extremely improbable, but to you, as the visitor, representatives of a search engine can come.


Anyway, the site risks to be banned. But there are also other methods of a cloaking, so-called "white":


Page display for the user in the language specified in settings of the browser.


The page display, most correctly displayed in the used browser.


When using a "white" cloaking your site shan't ban, after all you try for the user. For example, Google applies the method of a cloaking redirecting visitors, using settings of regions and language, on the version of the page necessary to the user.
The cloaking – dangerous, difficult and labor-intensive process, and to sorvmenny webmasters not to do without profound knowledge of programming and optimization. We don't recommend to be engaged in it. It is better to send efforts to other course, and to advance a site valid methods.