Whether the online consultant can spoil a site?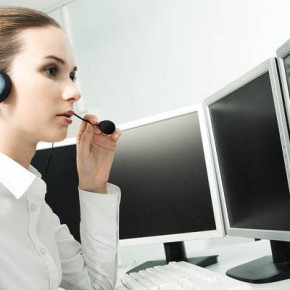 Inherently the system of online consultation shall give in real time answers to questions of visitors, advance goods or service, and also organically to add a site. So, we will consider a chat window from three line items and we will open parameters of effective system operation of consultation.
As part of a site the window of the online consultant shall is harmonic to be inscribed in design of a site, to be on the principal page and whenever possible on internal pages of a site, that is to be available. But thus, the dialog box shan't hinder visitors and distract from process of acquaintance with information on a site.
As a window for online communication, the system of consultation shall be very effective. That is instantly to boot, send responses with the minimum time delay. The text shall be provided by a clear and easily readable font. It is thus important that responses of the visitor and the consultant could be differentiated easily. The window of a chat shall be is as follows: a maximum of functionality and a minimum of excess loading in a look a flash animation, advertizing and other.
And, at last, as the instrument of sales, system of online consultation it shall be used exclusively directly, the qualified managers with possibility of momentary response to questions of visitors shall work. Only in this case the system will make profit.
Most often in case of development of the system of online consultation such errors are made:
- mandatory presence of a logo of the company at a chat window. As a rule, this information is superfluous and in addition distracts the client from the solution of a question. From the company it is prestigious and specifies window accessory to a site of the specific company. But it can even frighten off the client;
- insufficiently thought over design of a window. In an ideal the window shall correspond most precisely on style to all site. It is best of all if the window of online consultation is developed the same studio which did all site. If there is no opportunity to restart partnership, it is better not to regret means and to employ professionals. Design compliance, instead of logo existence, causes the positive emotions in visitors of a resource;
- insufficient automation of operation of managers consultants. If number of visitors solid, the manager have opportunity to respond all wishing. It is for this purpose best of all to set up system so that the manager received notification on everyone who requested a window of the online help. Thus the machine shall provide a standard question or a greeting to the client. Important! The standard question – doesn't mean the banal. "Than I can be useful? " - such question will nonplus any visitor. It is better to create the phrase more specific and suitable in sense to a kind of activity which describes a site;
- about the client it is best of all to carry out information collection to chat time, instead of at the beginning or the end. The option when the manager himself will ask a name and an e-mail of the visitor is optimum.