How to Add Facebook Feed/Gallery to Joomla Website with Facebook Feed Pro
Social media is an integral part of any online as well as offline business these days. If you are ignoring it, you probably ignore a huge customer base. Well, you should pay attention to it. Social networks can be a great source of traffic for your website.
So now you look after social media as more followers means more visits to your site. But you can do the exact opposite at the same time – drive new audience to social accounts. What you get? A synergy of your website and networks. In other words, they promote each other.
Here our Facebook Feed Pro extension comes into play and is ready to help you. Engaging interface with original elements of Facebook is doomed to catch the eye, and will contribute to not only holding current users on the site, but also attracting new Facebook subscribers.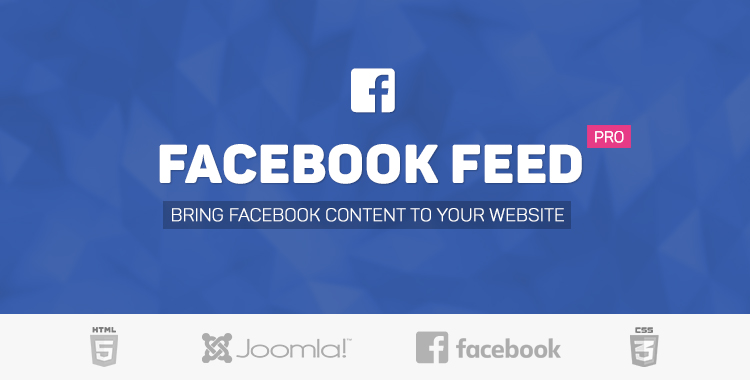 Raise your website to a new level using Facebook Feed Pro extension
Strengthen credibility of your company

A business that has active profiles in social media networks gets 75% more trust among visitors. Demonstrate your Facebook profile on the website, to prove to users your business is real and trustworthy.

Grow Facebook subscribers of your profile

Transform site users into Facebook subscribers. Set up an bright widget with your page and add it on website, so that every visitor could get a chance to follow your page.

1 Facebook widget instead of 3

You can have all your Facebook content displayed in one widget: insert publications, likes, shares; get pictures and video galleries on the website out of Facebook page.
Powerful features are not the only thing you will get. To give your website all it needs, we are always here with professional support in any issue and the latest updates available.
Let's look at how to embed Facebook content into your Joomla website.
How to Install Facebook Feed Pro on the Joomla Website
Facebook Feed Pro for Joomla does not require knowledge of programming languages and web development experience. Nothing but you and the keyboard and mouse. You can install this feed/photo/video gallery in just a few minutes by following these simple steps.
1. Download Facebook Feed Pro archive
First, make sure you have the Facebook Feed Pro extension package. It contains the installation package and documentation links. It can be easily found in the "Purchased extensions" sections in your account on AllForJoomla.com

If you don't have an account yet, please register. Also, if you haven't purchased Facebook Feed Pro, please do it - the process is very simple - just click "Purchase" button on the extension page and follow the purchase steps.
On the purchased extensions page you will find the Facebook Feed Pro. Click the "Download" button.

2. Unzip the downloaded archive with Facebook Feed Pro for Joomla
Inside you will find installation package, which you should install on your website (facebookfeedpro-installation-package.zip) and links to the online documentation.
3. Installation of the Facebook Feed Pro in the Joomla admin panel
Congratulations, you now have the installation file! Now lets install it. Go to your website's admin panel -> "Extensions" -> "Manage" -> "Install" -> "Upload Package File". Then drag and drop the Facebook Feed Pro installation package file into the special box or click "Or browse for file" and choose facebookfeedpro-installation-package.zip file.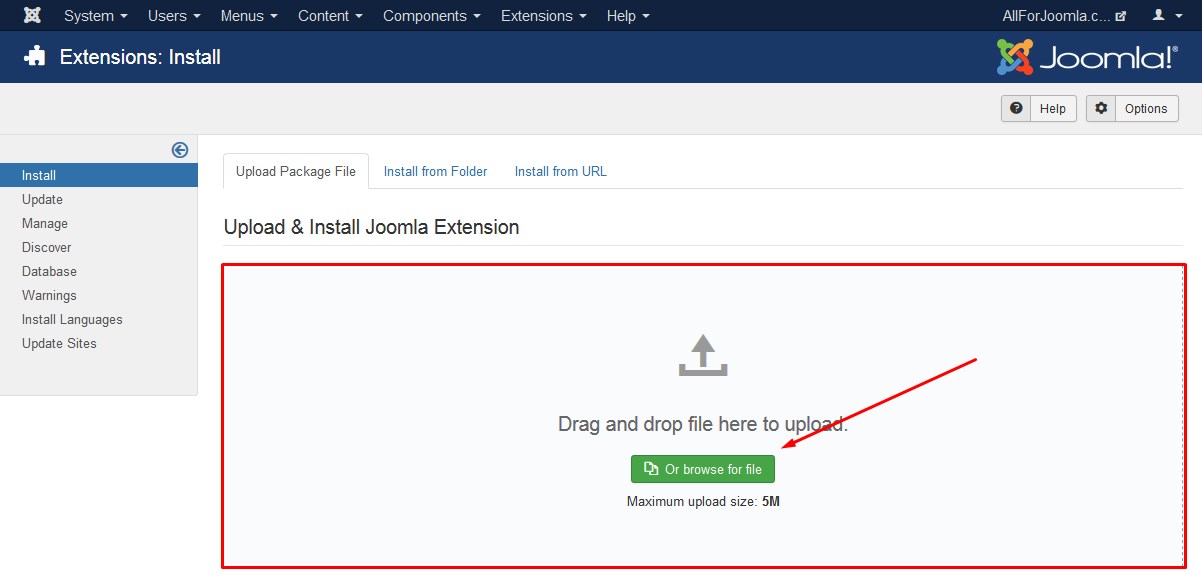 Now you're ready the create Facebook widgets and display it on your Joomla website.
4. Create Facebook widget
So, in order to create/edit and delete galleries you need to go to "Components" -> "Facebook Feed Pro".
By the way, Facebook Feed Pro allows you to create as many widgets on your Joomla website as you wish.
In order to create new widget click on "+ New" button. First enter a title for the new widget. This name will be used only in the widgets list, so you will know which widget is which.
Then you need to connect to the Facebook application by clicking on the "Connect to Facebook" button and agree to connect in the popup window.
After the connection process the editor is ready to display the widget, but he needs a Facebook page url, data from which you want to display in the widget. Enter url or ID of the Facebook public page and you will see how the widget looks like. And you can change any available options to configure the widget and see the changes right away.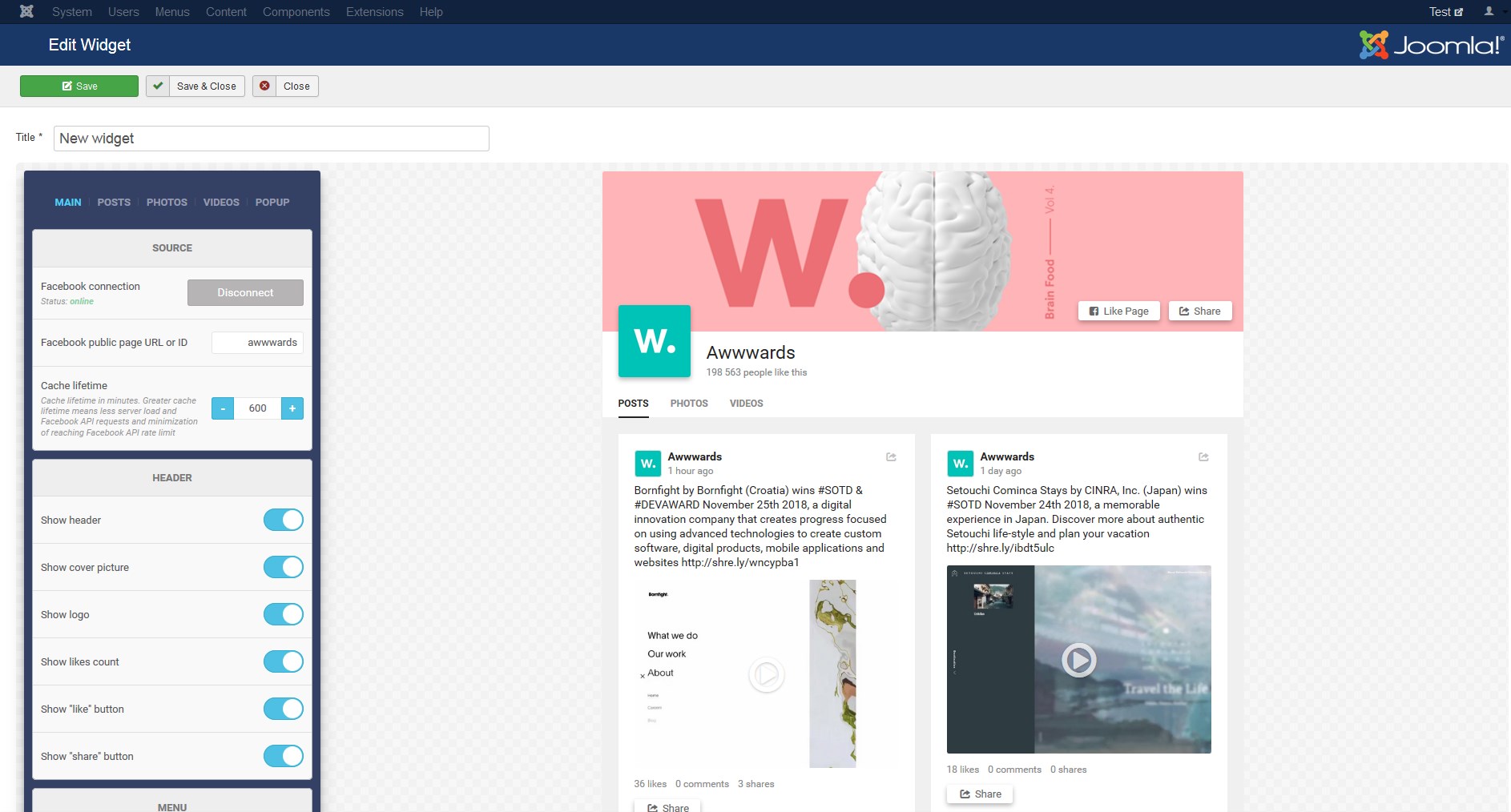 Warning! Don't forget to save any widget changes by clicking the "Save" button.
5. Copy the shortcode and paste into any page
You are close to victory! Now you need to embed this widget to some article or module. In order to do this you need a special shortcode. Every widget has it own shortcode. You will find it in the widgets list. Copy this shortcode and paste it into any article or module html, where you want to display this widget.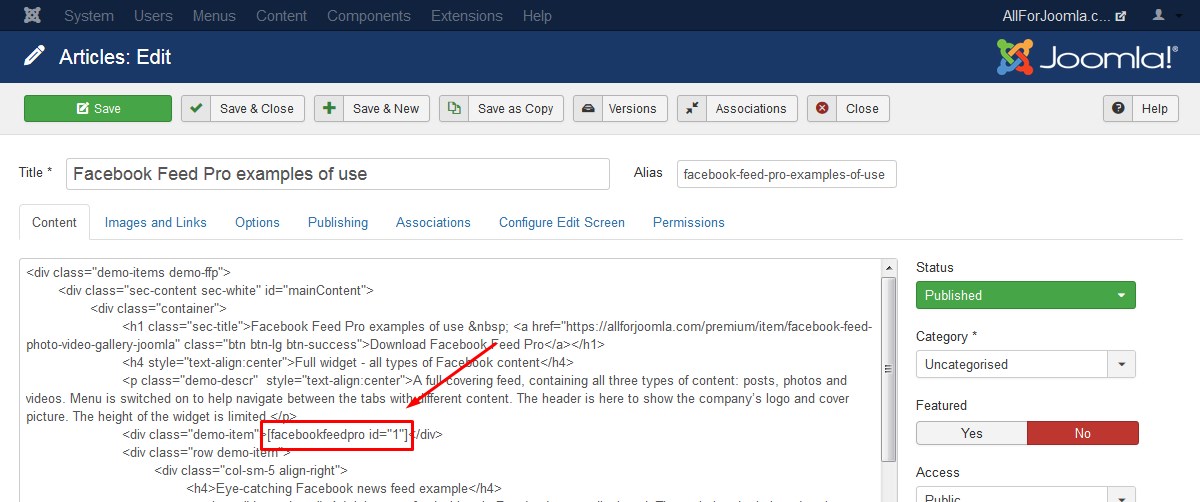 You can place as many shortcodes as you wish into one article or module html, and it can be any part of the article.
That's it! Now you know how to embed the Facebook feed/gallery into Joomla website. Use advantages of the Facebook Feed Pro to increase you audience engagement.
Ask for help
We provide support to all our customers. If you encounter any difficulties related to our extensions - we will help you. First look if there's answer to your question in the Help Center. If not, please contact us using the "Support" section on the extension's page.